Why Are People Choosing Blade Buddy?
I''ve had a shaved head for about 15 years and I went through about 1 razor per week. Since I''ve bought the Blade Buddy I''ve been able to use the same razor for close to 8 weeks without experiencing any nicks, cuts, or discomfort. I have also recommended the product to my co-workers and friends. Great product!!
Jonathan A.
With Blade Buddy I have no reason to change from the razors I've been using for years. They work just fine, actually better than ever, and with no irritation. What's not to like? Thanks Blade Buddy. PS: My wife is also using it now. Can you guess what I'm giving away this Christmas for stocking stuffers?
Jay
I must say I'm really pleased (even impressed) with the Blade Buddy. I've been burned on other products I've ordered online promising to do this or that… but your product actually does what it says.  I use the expensive blades and I was going through them way too fast. Your product actually makes it feel like I'm using a new blade each time I use the Blade Buddy and it has really slowed down the need to change the blade out. Heck, I paid for the Blade Buddy in just a couple of weeks use. Very impressed. :)
John M.
What Can Blade Buddy Do For You?
Save Money
The average consumer spends hundreds of dollars a year on razor blades. By extending the life of a blade from days to months, Blade Buddy reduces this amount significantly.
Reduce Waste
Two billion blades and their packaging are thrown out each year, resulting in two million pounds of plastic waste. Blade Buddy significantly minimizes the amount you throw away.
Shave Smarter
Replacing razor blades after a few shaves is costly and wasteful. Save money, reduce waste and eliminate nicks, cuts, razor burn and ingrown hair caused by dull razor blades.
FAQ
Will the Blade Buddy work with any razor?
Yes. Blade Buddy will extend the life of all razor blades.
How does the Blade Buddy work?
Every time you shave, the edge of your razor blade bends. Blade Buddy's micro-honing grooved surface straightens the edge back into alignment.
How do I use Blade Buddy?
All it takes is 3 easy steps. Watch the video below and discover how to keep your razor blades going strong.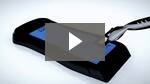 More FAQ